Vancouver – TheNewswire – October 1st, 2020 – Valorem Resources Inc, (CSE:VALU) (CNSX:VALU.CN) (the "Company" or "Valorem") is pleased to announce commencement of data compilation and exploration program planning for the Black Dog Lake Gold Property (the "Black Dog" or "Property") located in the James Bay Region of Quebec. Valorem is currently compiling available data from government, industry, and academic sources to define and rank the highest-priority target areas where future field work will be focused. Immediately following the detailed data review and targetting, the Company intends to complete a Technical Report on the Property in accordance with NI 43-101.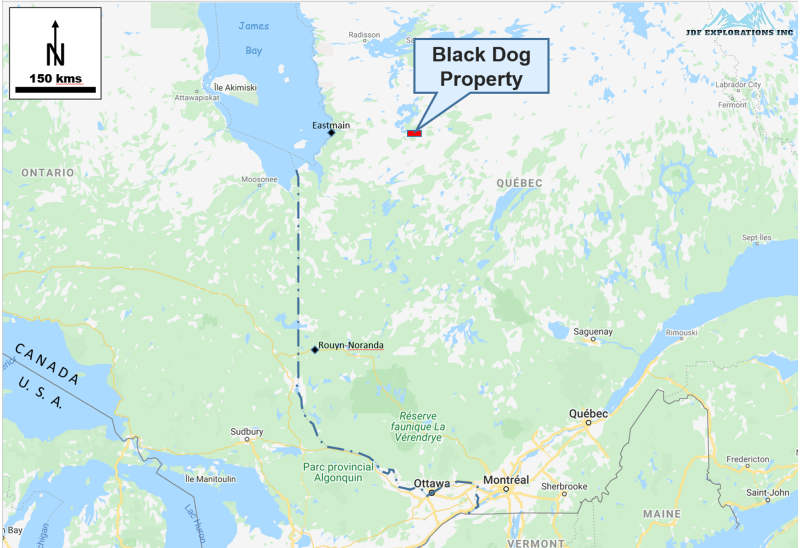 Click Image To View Full Size
The Black Dog Lake Property is comprised of 19 contiguous mineral claims covering 1,003 hectares, located 150 km east of James Bay, Quebec. The Property includes the historical Black Dog Lake (Lac Hudson) Gold Showing, discovered in 1988 by Eastmain Resources Ltd. The showing consists of an auriferous sulphide-facies iron formation and was subsequently tested by four (4) drill holes in the immediate area (Shelp 1989; report GM49584). The drilling yielding several prospective gold intersections at the occurrence including 15.2 g/t Au and 22.3 g/t Ag over 0.6 m (LH-88-01); 5.62 g/t Au over 1.1 m (LH-88-02); and 4.32 g/t Au over 0.88 m (LH-88-03). In 1995, Eastmain Resources completed three (3) widely spaced drill holes as follow-up, with narrow intervals of auriferous iron formation encountered in each, including 3.0 g/t Au over 1.0 m (LH-95-01). The drilling successfully expanded the mineralized zone and continued exploration was recommended (report GM54627). In 2014, surface exploration in the area by Virginia Mines Inc. concluded there was potential for additional gold occurrences to be present, and recommended a "rigorous" prospecting program, as well as geophysics and continued drill testing (Lavoie 2014; report GM68876).
The gold mineralization at Black Dog is associated with high sulphide content (semi-massive) and reported to be magnetic and conductive (Shelp 1989; report GM49584) making it potentially traceable using high-resolution surface and airborne geophysical survey methods.
Exploration of the Property by the Company is expected to focus on two (2), kilometre-scale target areas with reported sulphide-facies iron formations, including Black Dog Lake (Lac Hudson), which parallel the contact with the Archean granitoid Mistumis Batholith at the southern boundary of the Property.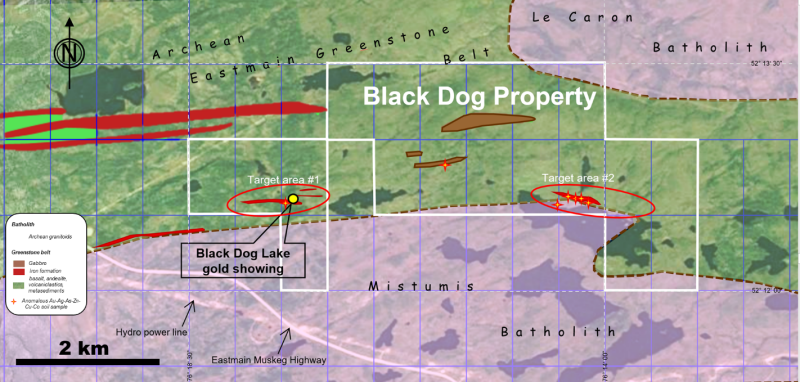 Click Image To View Full Size
NI 43-101 Disclosure
Darren L. Smith, M.Sc., P.Geo., Dahrouge Geological Consulting Ltd., a Permit holder with the Ordre des Geologues du Quebec and Qualified Person as defined by National Instrument 43-101, supervised the preparation of the technical information in this news release.
About Valorem Resources Inc
Valorem explores and develops precious metals properties in the Americas.
For further details and maps, please see:
Reference: Lavoire, J., 2014. Technical Report and Recommendations 2014 Geological Exploration Program Opinaca-Black Dog Property, Quebec. Virginia Mines report GM68876, 82 p.
ON BEHALF OF THE BOARD – Valorem Resources Inc.
(signed) Gregory M Thomas, President
Email: gthomas@valoremresources.com
Phone: 604-283-6110
This news release includes certain statements that may be deemed "forward-looking statements". All statements in this release, other than statements of historical facts, including the likelihood of commercial mining and possible future financings are forward-looking statements. Although the Company believes the expectations expressed in such forward-looking statements are based on reasonable assumptions, such statements are not guarantees of future performance and actual results or developments may differ materially from those in the forward-looking statements. Factors that could cause actual results to differ materially from those in forward-looking statements include unsuccessful exploration results, changes in metals prices, changes in the availability of funding for mineral exploration, unanticipated changes in key management personnel and general economic conditions. Mining is an inherently risky business. Accordingly, the actual events may differ materially from those projected in the forward-looking statements. For more information on the Company and the risks and challenges of its business, investors should review the Company's annual filings which are available at www.sedar.com
Copyright (c) 2020 TheNewswire – All rights reserved.